The Cambridge Centre for Alternative Finance (CCAF), at the University of Cambridge Judge Business School, has published a new report on artificial intelligence (AI) and the future of financial services.
CCAF is the leading research entity covering the global ecosystem of Fintech from online capital formation, to blockchain and more. This most recent report highlights the paradigm shift taking place as very sophisticated algorithms are beginning to replace services once handled by individuals – if at all. The combination of AI and machine learning (ML) is expected to become an "essential business driver across the financial services industry. According to CCAF's research, in the near term, 77% of survey respondents expect AI to possess high or very high overall importance to their businesses within two years and 85% of the surveyed financial firms have already implemented AI in some way.
The research also indicates that financial services firms will "move away from mainly leveraging AI for cost reduction" to generating new revenue streams.
Approximately two-thirds (64%) of survey respondents plan to become "AI mass adopters" within the next two years.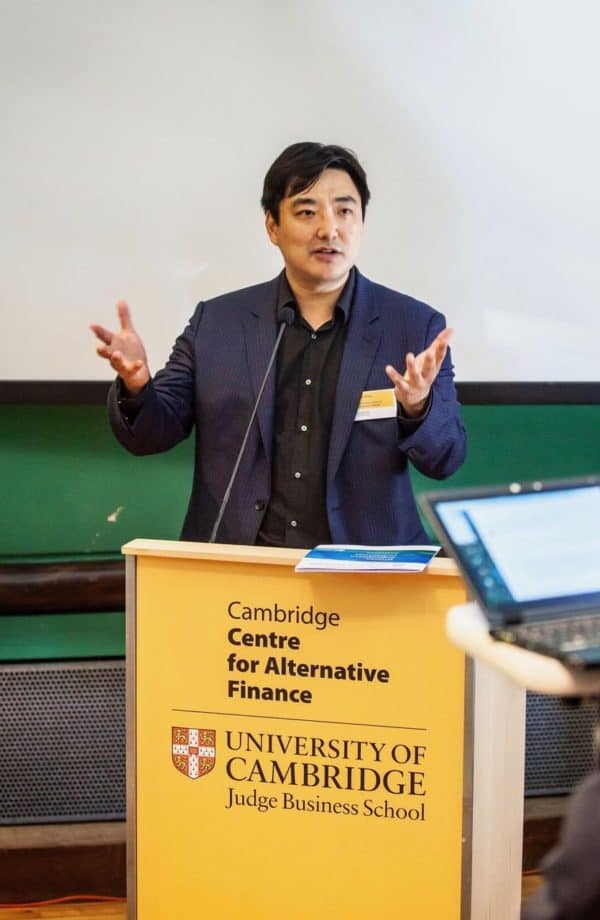 Bryan Zhang, Executive Director of CCAF commented on the report:
"This empirical research underscores the growing importance of harnessing AI in Financial Services, which gives new impetus for firms to develop a holistic and future-proof AI strategy."
The study was based on a survey sample of 151 firms which included both traditional finance as well as Fintechs. The research was conducted in Q2 and Q3 of 2019 by the CCAF and the World Economic Forum. And while take-up of AI is increasing in velocity, there remain hurdles to its growth. These hurdles include access to data, access to talent, and regulatory uncertainties.
There are also questions as to where real people will end up on the operational ladder in providing these services. As AI becomes ubiquitous – will more jobs be created or will the bots take over?
"… it is evident that more research needs to be done in order to better understand the opportunities and challenges brought about by the eventual mass adoption of AI in Financial Services," according to CCAF.
Here are some of the key findings of the CCAF AI research:
Risk management is the usage domain with the highest current AI implementation rates (56%), followed by the generation of new revenue potential through new AI-enabled products and processes, adopted by 52%.
AI is expected to become a key lever of success for specific Financial Services sectors.
With the race to AI leadership, the technological gap between high and low spenders is widening as high spenders plan to further increase their R&D investments.
Fintechs appear to be using AI differently compared to Incumbents. AI appears to have a higher positive impact on Fintechs' profitability, with 30% indicating a significant AI-induced increase in profitability compared to 7% of Incumbents.
Fintechs are more widely selling AI-enabled products as a service.
Leveraging alternative datasets to generate novel insights is a key part of harnessing
the benefits of AI.
Incumbents expect AI to replace nearly 9% of all jobs in their organization by 2030, while FinTechs anticipate AI to expand their workforce by 19%.
Quality of and access to data and access to talent are considered to be major obstacles to implementing AI.
Approximately 40% of all respondents feel that regulation hinders their implementation of AI, whereas just over 30% perceive that regulation facilitates or enables it.
Mass AI adoption is expected to exacerbate certain market-wide risks and biases.
Almost half of all participants regard "Big Tech" as leveraging AI capabilities to enter financial services as a major competitive threat.
Big Tech = Big Competitive Threat
The CCAF report affirms that "Big Tech" (think Google or Facebook) will provide "fierce competition" to financial institutions in the future. Big tech is "causing great concern amongst Incumbents" with concerns particularly pronounced in China and the UK (while being less prevalent in the US). Big tech can benefit from the deep data they already possess to provide a host of financial services augmented by AI. The report also forwards the possibility that Fintechs could "hold Big tech at bay."
It is also interesting to note the report posits that AI implementations in Fintechs "should benefit more from regulation" than incumbents because "Fintechs are seeking to develop more trust and regulatory certainty."
The Head of Financial and Monetary Systems at the World Economic Forum, Matthew Blake, believes the study affirms AI is impacting the financial system at an accelerating pace. But there will be a "significant gap between firms that quickly implement AI and firms that lag behind."
AI is on its way to becoming mainstream in the financial services sector. That is crystal clear. All AI Leaders expect to be mass adopters within two years, states the report, "solidifying the hypothesis that there are significant economies of scale in the application of AI in financial services."
---
CCAF AI in Financial Services Survey Final January 2020
https://www.crowdfundinsider.com/2020/02/157112-cambridge-centre-for-alternative-finance-ai-report-financial-services-are-undergoing-profound-digital-transformation-underpinned-by-artificial-intelligence/amp/
Thank you for your feedback!